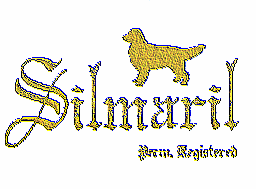 Letters & Pictures
from Clients

---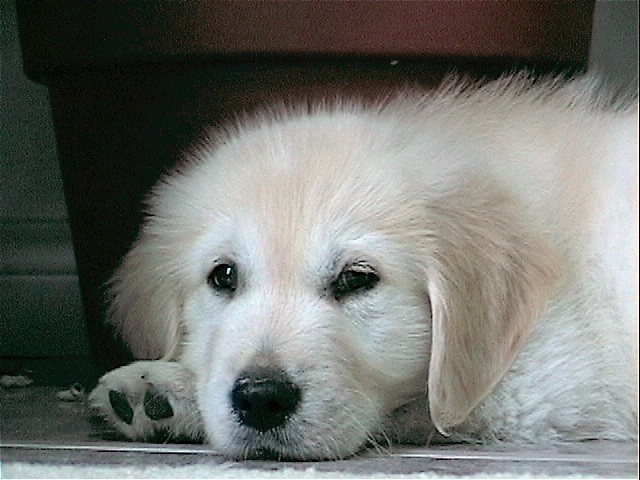 'Paddington'
---
Hi Michelle and Rick
Just thought I would send you an email to let you know that Bear is thriving and is growing like a weed. He weighs in a 46 lbs and is full of mischief. He still has his dark brown on his forehead. His coat is starting to get darker but I think he will have a white face, four white paws and a white behind. The white hasn't changed at all. It won't be a pure white but a light creamy white.
He is very vocal to what he wants and lets you know about it. He has to be most loveable dog we have ever had. The vet says he is going to be a big dog. He is big for his age.
We have him in obedience classes and he loves it. He learns very fast. The trainer tried to show the class what to do if the dogs got unruly but he was good and they and to demonstrate with another dog the was unruly.
Just thought I would let you know how he was doing and to let you know that we have put him into training. We are training with McCann's dog training. Will let you know how he does on graduation.
bye for now MM

---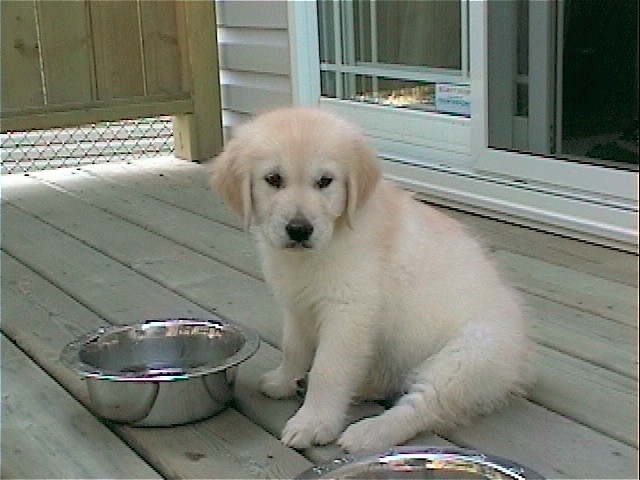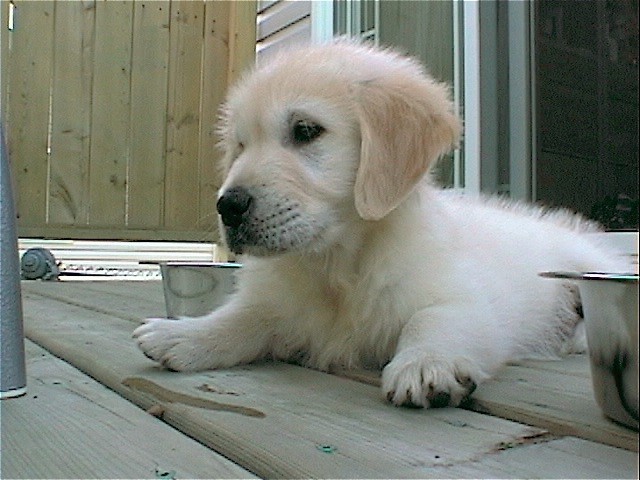 ---
Hi Michelle,
Just a quick note to let you know that Abbey is doing great in her new home. We took her to the vet on Saturday and they thought she was the picture of health. They thought she was such a beautiful dog that they took the kennel name and numbers to refer people inquiring where to get a Golden ! One person on staff may call to get one herself ! The Vet was also quite impressed with the guidance you had provided us with and told us that we had obviously found an excellent breeder. (We already knew that !) . . .
Thanks, LW

---
Hi !
I would like to get a companion for Gryphon! Would it be possible to get another male pet puppy sometime in the early fall (August), so born in May or so? I bought a house, so will have a yard for them both. Hope to hear from you soon!
ST

---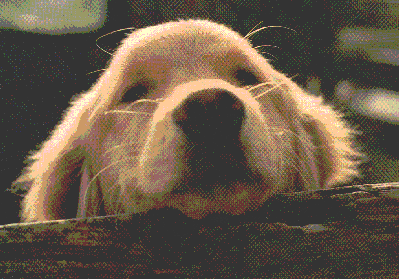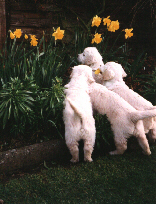 ---
Hi.
This is just a quick note to say hello from one of your guys, 'Yukon Jack', now known as "Shane" and living very happily in southern Indiana. You may remember that M&C Perry had a hand in finding a suitable Golden for my mom, a confirmed serial Golden owner.
Jack has matured beautifully and now, at 8, has settled into a very appealing light gold colour, although he was VERY pale when he arrived. Both my folks are VERY fond of him. My dad, who never really warmed up to the others has taken a special liking to him . . . to the point that my mom maintains aliens have taken my REAL father and replaced him with the Shane-loving substitute from Mars.
He is still very timid around most people, but that may be because my parents (both of them are 79 this year) don't have a lot of 'outsiders' in. He is not particularly submissive around other dogs on his walks . . .
Knock wood, he continues to enjoy great good health, and is a real "hearing aid" for my folks . . . he always lets them know when someone's at the door, or in the drive, but he's not a gratuitous barker.
Best Wishes,
CM for J&E W

---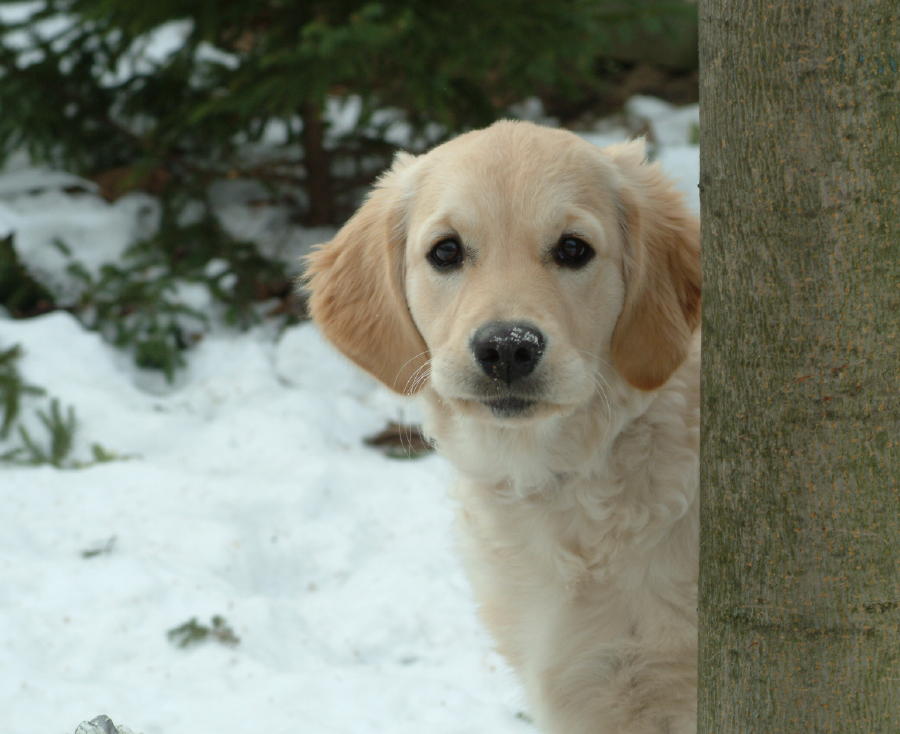 'Meghan'
---
Dear Michelle,
Wanted to send you a quick note and let you know Jack and Decker are doing wonderfully well. Jack is really growing and we had to get him a different colour collar because he is starting to look exactly like his brother. Jack has a truely beautiful face - and I'm not the least bit biased. Chloe can often be found draped over her boys in the hallway. We love having both of them, but think two is really enough after having looked after a third Golden for our friends. . . .
Hope all is well with you and the Silmarilians!
C, S, E, Chloe, Decker and Jack

---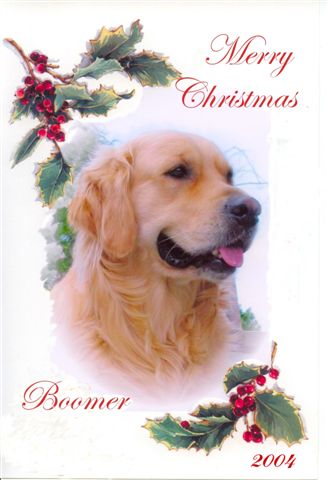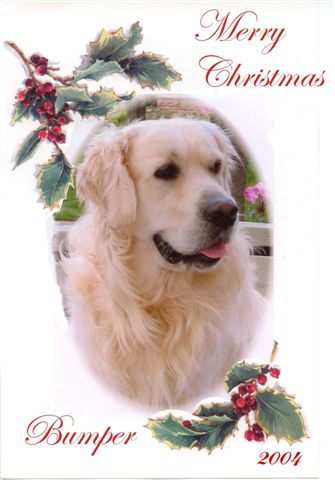 'Bumper' & 'Boomer'
---
Hi, I was sad to see that Duncan's mother had passed (Nicki) I just want to let you know that Duncan is a wonderful dog and has given our whole family lots of love and companionship he has a great temperment although he's a big chicken (I think he's scared of his own shadow) We have always said that we wish we had more room we would love to come back and visit and take home another one of your beautiful dogs.
Kind regards LH

---
Hi Michelle and Rick.
"We're having a great time with 'Bumper'. He is doing
extremely well with his obedience training, expecially
the sit stay and the down stay - with a cookie on his paw
and he waits patiently for the command OK to be able to
eat it. It's amazing how easy it is to train him. I must
say that the new art of training dogs these days is a lot
different from the past. Before, we used to put the fear
into them and now you reward them with a piece of kibble
or treat for good behavior. Great Idea - It REALLY works well !! The vet says he's in great shape."

---
Hello !
We recently lost one of our goldens and we are interested in getting another one. Our goldens came from CB, she gave me your name as a breeder in this area (we moved from Ottawa last year).
The Golden we currently have will be 4yrs in April. We're open to suggestions on options:puppy or adult??
Regards, L

---
Hi !
Our name is M. We purchased a puppy from you folks in 1993. "Happy" - Screaming Eagle of Silmaril, just died last night with no preliminary warnings. He seems to have quietly passed in his sleep.
We would be interested in any information you might have on his brothers and sisters and their health so we might better understand what might have happened.
We could not possibly have been happier with the pup we got from you. We miss him desperately, since he was a very loved member of our family. So thank you in advance for any help you might provide and great gratitude for the dog you did.
Thanks,
D&J M

---
Dear D & J :
We are so sorry for your loss. There is a story about "Rainbow Bridge" that we have found helpful in these difficult times. You can find a copy of it on our website at :
http://www.silmaril.on.ca/rainbow.html
You might also find our Memorial Page and resources for pet loss useful at :
http://www.silmaril.on.ca/MEMORIAM.HTML
We will of course search for current information and get back to you about sibling and parent health . . . nothing comes immediately to mind as being problematic.
Again we are sorry for your loss . . . please take time to grieve 'Happy's loss . . . and try to focus on the good memories. As one of our favourite quotes says
" How small a part of time they share
That are so wondrous sweet and fair! "
Edmund Waller. (1605-1687)
Rick & Michelle S
for
Silmaril Kennels
---
I enjoy your e-mails from the Golden list -- I'm really impressed by your obvious expertise. Do you have requirements for buyers of your pups? . . .
Do you have any litters planned any time in the next 4-6 months? I'm very flexible. This gives us time to do research and visit dog shows -- What fun!
:-) I really appreciate your voice on the Golden list.
J., Memphis, TN

---
Hi Rick and Michelle.
Our Duke is doing great. The training thing is coming along and we are scheduled to start obedience training starting the beginning of April. He is starting to know his name and can sit on command. The 'down' command is coming along and even did it without a treat in front of him last night. We would like to drop the crate off sometime.
Should we make an appointment or is it okay to leave on the front porch with a note? We had to hide it from Duke because he still tries to squeeze into it. Our vet lent us the next size crate which hopefully will last us a month or so until we buy the largest one for his permanent one. We all love Duke and he is a wonderful addition to our family.
Best Regards,
B. and C. J.

---
Hi Michelle and Rick !
Happy to report that Bumper and Boomer have had their first year physical
and are both in Great Shape. Enclosed are some recent photos I thought you might enjoy.
As you can see - "You make Beautiful Dogs".
We are pleased that we ended up getting a light and a medium coloured
Golden.... They're coats really compliment each other, as well as their
different personalities. We have Never been disappointed in our decision
on having two puppies instead of one. How hard can it be ????
We're talking about Golden Retrievers !!
Great Temperments and Easy to train...especially when they're 4 months apart...
We had Bumper trained before getting Boomer and he just became Bumper's shadow...
followed in his foot steps... or should I say "Paw Prints". It was that simple!
So now, one year later... no longer puppies (in size) but "Best Friends" for
life. Due to your hard work... we ended up with two Beautiful Goldens - Inside
and Out... Thanks
G, W, Bumper and Boomer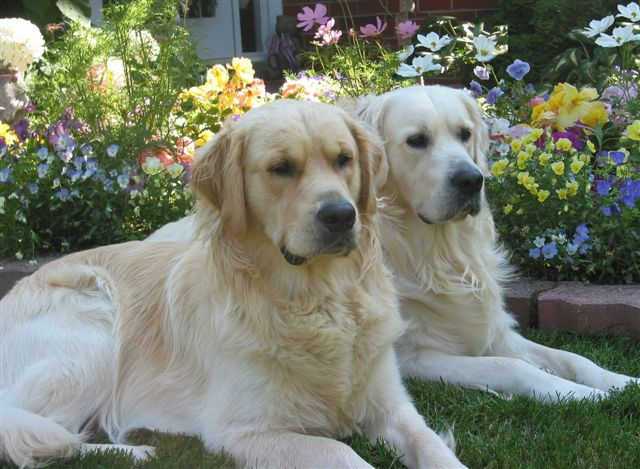 'Bumper' & 'Boomer'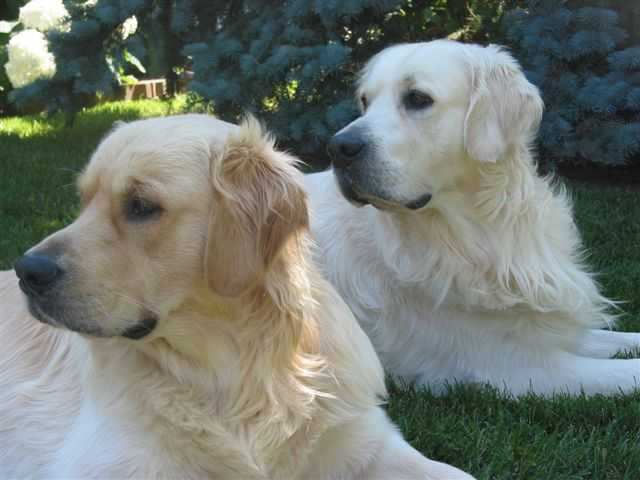 ---
Hello Michelle,
I certainly remember you and your kindness thirteen years ago when you sent me a Golden that has made a huge impact on my life; Silmaril's Duke Jacob Alexander.
His father was Ch. Amberac's Mesmerizing Mickey and his mother was Ch. Shaynedoro's Talmi Gold and his birth-date was October 19, 1994.
Such a big heart, I swear if he stepped on the smallest bug I could almost see a tear in those big brown eyes. He not only made an imprint on my heart but many others, both human and canine. He became a St.John Ambulance Therapy Dog when he was a little over a year of age and we visited one senior's home twice a week. He visited one lady who had?Alzheimer's?disease, but she always remembered the 'Golden Dog' and played the piano for him while Duke lay content at the base of her piano bench. Another lady would always save part of her breakfast for him and of course, Duke would graciously accept any toast or bacon she had to offer! We also visited one lady whom I grew to love just like a grandmother; we took her out on outings and brought her Thanksgiving Dinners, but sadly she passed away and I couldn't bear to go back to that senior's home again without thinking of her.
So then, Duke entertained - he LOVED children and at the time I worked at our local Empire Theatres. Twice he was asked to visit during the opening of a movie, I remember one time I had to dress him in my father's Toronto Blue Jays Jersey, our 'star' was in costume and he didn't care because he was getting LOTS of attention from all these children around him! He walked in many Christmas parades in the downtown St.John's area and had a fixation on teddy bears! I remember one parade looking down at Duke and he had a child's tiny stuffed toy in his mouth, I looked around and saw a toddler in a stroller ready to make big sobs and pointing at Duke! He could be so silly and funny!
Then he became a buddy and best friend to my dad's dogs. Duke was buddies with Sable, Chimo, Colby and Gabi; all shepherds my dad had in Duke's time with us, he actually had a 'paw' in raising Colby and Gabi. ?And then there was Chloe, a Golden from a local breeder, her original owner had MS and Chloe was just too much for her, so my dad took her in and there was an instant bond with Duke and Chloe.
When I moved out of my parents house about seven or eight years ago, my plans were to take Duke along with me to my new house. But my dad begged me not to take him, he said Duke would probably go through separation anxiety because he would miss Colby and Chloe and not only that, I was working two jobs and it was a shame if Duke was cooped up in my house during my long work hours. Father knows best, so Duke stayed and I frequently visited. My parents live in a heavily wooded area where there are lots of trails and he LOVED to go exploring.
Duke taught me to what the meaning of having a 'big heart' meant and to accept everyone and ignore no one. It didn't matter their age, gender, colour, handicap or if they were animal or human. He did not discriminate. My heart would weep for him those few times he encountered someone who just did not like dogs, he just couldn't understand why and he hurt - you could see it in those emotional eyes.
I had to say 'goodbye' to my friend today.
The past seven to ten days Duke steadily went down hill when it came to walking, my dad stopped taking him on his morning walks because he was carrying Duke more than Duke was walking. We took him to see Dr.DeZeeuw, the same doctor that wrote the reference letter to you thirteen years ago stating he approved of me owning a Golden. It was a hard day for all of us, even Dr.De because he had been caring for Duke ever since you sent him here so many years ago. The Doc told us what we had been dreading to hear; Duke had a tumor growing on his spine that was impairing his ability to walk by delaying or not sending the signals to his brain. He said there was nothing he could do and it was only going to get worse.
Duke was a brave boy and gave us his paws left then right, left then right, as if to say, "It's okay, I understand". We stayed with him until he went into his permanent rest and we are now waiting for his remains from the pet crematorium. I am attaching the picture that will be attached to his urn, it's Duke as we knew him best - he always had to have a stuffed squeaky toy, it was his security blanket. This picture was taken just this past summer.
I want to THANK YOU for giving me the opportunity to own one of your beloved Goldens. ?In my world he is and forever will be the best. Thanks.
LPC



---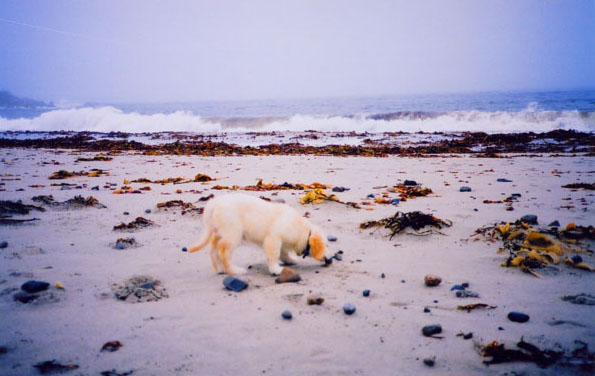 ---