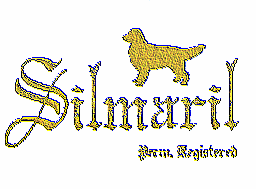 " If you pick up a starving dog and make him prosperous, he will not bite you.
This is the principle difference between a dog and a man. "
Mark Twain
Thank you for your visit to our web page ! And for your inquiry about our dogs !
The origins of our kennel come from three breed lines of dogs; from Chrys - Haefen
and Skylon Kennels dating back to "Junior" [Can/Bda Ch. Nanno Chrys-Haefen Son of Skye SDHF],
and from Saddleback Kennels dating back to "Verrity" [Ch. Saddleback Verrity Forsooth],
"Mac" [Ch. Saddleback Chauncey MacKinnon SDHF] and to Saddleback Bobbi Sox.
We initially outcrossed twice in acquiring and "finishing" "Tango" [Can / Am Ch. Kyon's for
Valour and Victory SDHF] as a son of Can / Am Ch. Bachelor of Rye CDX; also "Tali" [Ch. Shaynedoro's Talmi Gold]
as a daughter of Can / Am Ch. Birnam Wood's Douglas Furr SDHF.
We returned to breeding from Saddleback by back-breeding to "Oberon" [Ch. Saddleback Oberon O'Shea].
More recent outcrosses included Ch. Sansue Lochinvar[GBR], Mandingo Traveller [IRE] , Mandingo Sea Cruiser [IRE],
Can / Am Ch. Amberac's Mesmerizing Mickey SDHF [USA], Joyous Reizigger at Silmaril [(Holland] and Caffimbra Caramel Dream for Osrealin [GRB].
Our most recent test breedings were to "Jack" [Camrose Jackanory Silmaril] as a grandson of CH.Camrose Cabus Christopher
and a young Australian "Aussie" [Westrova Silmaril Aussie] . "Aussie" came from a dear friend &
fellow breeder ~ Frances Strover !
The immediate ancestors of our kennel origin thus included TOP GOLDEN in CANADA for at
least 9 years in "Junior" [x3], "Mac" [x2], "Oberon" [x2] and in "Tango" [x2] !!
It was our honour to help care for "Mac" and "Verrity" in their old age.
Our distant roots go back to Eng Ch. Camrose Cabus Christopher [we have had a
granddaughter "Toffee" [Chrys Haefen English Toffee] by frozen semen] and currently have a grandson
"Jack" [Camrose Jackanory Silmaril] .
Our American heritage traces to Can / Am Ch. Birnham Wood's Douglas Furr and to
Can / Am Ch. Meadowpond British Blend via Can / Am Ch. Meadowpond 's Murphy's Rainbow.
We currently own 20 bitches and 6 Dogs at the kennel.
The dog on or index Web page and in our 'ads', is "Bear" [Ch. Golden Sun of Silmaril CD]
Our stud dogs currently include "Vinny" [Silmaril's The Balvenie] with 9 of 10 championship points, and
"Ziggy" [Joyous Reizigger at Silmaril] a Dutch import . Our most recent import female is "Abbi"
[Caffimbra Caramel Dream for Osrealin] imported from the United Kingdom; Abbi's son "Cody"
[Silmaril's Master Coldfield] has recently been tested for his ability as a stud as have 'Jack' and 'Aussie' ;
only time will tell what they will add to Silmaril !
"There is no heavier burden than a great potential " as both "Jack" & "Aussie" will attest !!!
---
We only breed Golden Retrievers, selling all animals directly to new clients; we do not
function as "wholesalers" or "brokers".We are not a pet shop. We breed 'English'
type Golden Retrievers that vary from cream to a medium / dark golden; we never have
"mahogany" coloured 'American' type dogs.
Based on our most recent client survey, we estimate that half of our animals go to "pet"
homes, 25% to competitive Obedience or Tracking homes, 12% to Field Trial & hunting
homes and about 8% to breeders and those active in Conformation.
We are members of :

We endeavour to abide by:
The Golden Retriever Club of Canada's Code of Ethics and meet or exceed
The Canadian Veterinary Medical Association's "May 2007 Code of Practice for Canadian Kennel Operations"
We sell all of our dogs on CKC non-breeding contracts until appropriate genetic
screening is done after 18 to 24 months of age. Our standard screening is OFA or
OVC, CERF and SAS. Thyroid, sperm counts and brucellosis are checked on dogs &
bitches when appropriate. All of our puppies are Veterinarian examined, have been
wormed, had initial vaccinations and come with an International Health Certificate.
We occasionally (rarely) co-own bitches. Our stud services are limited to selected
bitches with appropriate conformation and genetic screening.
We prefer to clarify all of our agreements in written contracts and will abide by them.
We sell some dogs at a distance [Newfoundland to British Columbia and Alaska and
California to the Florida gulf coast and Eastern seabord : France, and the 'far east' ]
Some to those whom we haven't had the pleasure of meeting in person; in these cases
we ask for a "referral" from a recognized dog breeder or from your own veterinarian etc.
indicating that they know you will provide fully vaccinated, loving care in an appropriate setting!
We strongly encourage people to come and visit our kennel if at all possible,
getting to know ' the people ' behind the dogs!
We whelp several litters of puppies periodically throughout the year, limiting our
breeding to about 50 or 60 puppies per year; aside from The Dogs Annual and the GRCC
Breeder's List, we have not found it necessary to advertise. We have serious requests
for more than 150 puppies per year - our animals are often sold before they are born
and sometimes before they are bred !

If you are interested in purchasing a Golden Retriever from us, please write, fax, phone
or press the E-Mail key or go to the 'Contracts & Costs' section on our home page,
and leave us a message, requesting more information.
Read the .pdf document, "So, You Want to Buy a Golden ?"

Book an appointment to come to the kennel if possible; we will look at dogs and review
our warranty. Usually, "first" visits are done as small group sessions with two or
three adult couples. We discourage children visiting in these initial 'fact finding' visits
for information gathering : the "little ones" are too restless for the length of discussion
required ! Subsequent visits are encouraged, including the entire family !
If you cannot come to visit us, we will send an information package by letter carrier, or
will download the files to your E-Mail after we have spoken with you.
If you are still committed, we would accept a non - refundable deposit to reserve a puppy.
Be SURE, before you leave a deposit !

If we can help further, please let us know.


Michelle Seaborn & Rick Stopps
for
Silmaril Kennels Limited