Continuous Quality Improvement (CQI) is a common theme in working environments today.

CQI is a journey rather than a destination. Knowing where our breeding programs started and what results we have now helps to direct our emphasis and efforts for improvement. A kennel survey seeks the longer term answers from your clients about how your dogs really turned out as adults - how they rate you and the health and happiness of the dogs you produced.

If you are truly adventurous (and have a thick skin), you might also ask for feedback on your customer service, call backs, phone mail, warranty, etc.

There is the potential to discover unexpected physical or emotional traits exhibited in your animals. You might be alerted to areas that require more client education with new puppies, or clearer contractual obligations (such as spay/neuter contracts).

You might redefine your criteria for breeding, screening or vaccination.


Invest time in the development stage
~~~~~~~~~~~~~~~~~~~~~~~~~~~~~~~

What are your goals and objectives?

What do you hope to achieve or improve? One of the most difficult parts of a kennel survey is to establish the explicit questions you wish answered; the more vague the questions, the less exact the responses and, consequently, the less useful the information. Ask your questions in a clear and concise way. Typical queries have to do with health, behavioural or customer-service issues. Use 'plain English' - phrases like "canine hip dysplasia" or "arthritis" rather than "CHD," for example.

Clearly establish the dog's identity on the answer form, so you can compare males to females, or traits from given litters or 'lines' of dogs.

Make the total number of questions manageable, since you will have to tabulate the results. Excessively long questionnaires also cost more money to reproduce and mail.

Having decided what you wish to ask, you now must determine what 'target' you wish, and can afford, to survey. If you bred 50 puppies a year for each of the last 10 years and you target every owner of these dogs, you will have to produce and mail 500 copies of your survey! Perhaps you should then aim for owners of dogs produced within the last two years - and 100 surveys.

Telephone surveys become personalized and are much more difficult to conduct objectively unless they are done independently, and the caller sticks firmly to the questions.

Calculate the Costs
~~~~~~~~~~~~~~~~

A four-page questionnaire can be 'reduced' (by photocopier) to two pages per side on a standard 8-1/2-x-11-inch piece of paper; this can then be folded into a pamphlet. This would mean two photocopies a double-sided page at 12¢ a copy or 24¢ a survey. Canadian postage will cost 45¢ to 90¢ per survey, and you will need two envelopes per survey: a mailing envelope and a (stamped?) self-addressed return envelope.

If you don't own or have access to a computer or the appropriate software, computer time, printing and copying facilities can be rented from companies such as Kinko's. Typical charges are 20¢ per minute computer time and 50¢ per laser copy (black and white). If you have a clear idea of the survey you want to create you will need about two hours of computer time ($24), typically four laser-printed output sheets ($2), and 100 double-sided photocopies ($24 to $35) to produce the questionnaire. Folding, envelope stuffing and stamp licking can be done while you watch some boring tv show or hockey game. (Add $5 for 200 envelopes - i.e., two per survey.)

Your costs are thus about $55 plus postage ($90+) and personal time just to produce and mail 100 questionnaires; to be safe, budget $1.50 per survey. We were able to use existing computer and photocopy facilities and reduce the direct costs to about 70¢ per survey.

Maximize Convenience & Maximize your Return
~~~~~~~~~~~~~~~~~~~~~~~~~~~~~~~~~~~~~~~~~

Clear, typed questions in large, easy-to-read print will encourage answers; leave space to the right side of each page and use yes/no 'check'-type boxes to minimize both the respondent's confusion when answering and your labour while tabulating results.

Prepare 'squared' accounting-type paper (using NCR with a duplicate is a good idea) for recording results. Develop short forms or codes to record all possible answers to each question: each column of results for each question forms a profile or snapshot of the question as it applies to your kennel. Percentages of the total questionnaires mailed out, rather than of responses, account for 'lost' surveys (e.g., returned mail with no forwarding address) when calculated at the bottom of each column.

This is a perfect opportunity to use a computer spreadsheet to collect and compile results and produce an integrated set of graphs. We have always found graphs much easier to see than raw data in a table (see Tables 1 & 2).

Lastly, allow enough time for respondents to answer: remember the vagaries of mail via Canada Post.

Compiling Considerations
~~~~~~~~~~~~~~~~~~~~~~

We would recommend refraining from compiling results for at least eight weeks after mailing. Try to avoid hitting peak mail periods like Christmas, but perhaps include your survey with an annual newsletter from your kennel.

The effort and time required to compile the responses will depend on the volume of returns and your computer resources. It is easy to start seeing the potential of your final product and spend vast amounts of time generating even more artistic, coloured graphs on a computer. Use the KISS principle (Keep It Simple, Stupid) and stick to pie charts or bar graphs.

The Hands-off Approach
~~~~~~~~~~~~~~~~~~~~~

If you think the creation, mailing and compiling of your kennel survey is beyond your abilities or will require more time than you can spare, there are alternatives.

Many business programs at community colleges and universities offer a 'small business advisory service' for a nominal fee. These programs often focus on marketing research or financial planning. You could also hire a professional polling company, with corresponding professional results and fees!

Justifying the Cost?
~~~~~~~~~~~~~~~~~

If you run your kennel as a business, this survey is both a marketing tool and a breeding-program directive. It tells former clients that you are interested in the long haul, not in a fast buck.

Return or repeat clients and their referrals represent a large proportion of new puppy buyers. If the survey earns repeat business, or identifies areas where you need to improve (and thus prevents the return of a puppy by a dissatisfied owner), it has paid for itself.

The costs to produce and distribute your survey, and to compile the results, should be deductible as a business expense.

If you breed as a hobby - solely for the love of dogs - you may wish to invest in a kennel survey to turn your "beliefs" to "facts." While there are many talented amateurs in the dog fancy, there is no blindness like kennel blindness!

We often calculate these cost considerations as 'puppy equivalents': the stud service, veterinary vaccinations, exams and worming, feeding, client handouts, registration and advertising can all be reduced to an equivalent number of puppies from each average litter. An average kennel survey will 'cost' you less than 'half a puppy', and will help direct content in your client contracts, choice of stud service or the selection of dogs that become 'keepers' for future breeding stock.

Read Them and Reap
~~~~~~~~~~~~~~~~~~~

Having obtained the results, and graphed them, you must start to look at the tale they tell. This is not the time to be defensive or rationalize about why all those people said what they did.

Considering the amount of time and expense you invested in seeking their opinions, you should value their feedback.

You will learn the most from negative results and comments. We all like a pat on the back for a job well done, and enjoy the satisfaction of positive feedback. We mustn't rest on our laurels about the things we are already doing right, but we don't want to devote too much time doing those things better while leaving other areas wanting.

If the negative data suggests you have a problem in a given physical or behavioural area, are you prepared to change your breeding program? Are outcrosses necessary? Have you linebred too tightly? Do you need to start searching for a new stud dog, or is it perhaps time to retire a particular brood bitch?

Breeding-program improvements do not implement a 'scorched-earth' policy whereby you repeatedly restart from scratch; rather, they are much like pruning in our apple orchard, taking away the weaker, less productive wood and allowing more nourishment and light to the healthier branches on each tree. As with pruning each winter and spring, this kennel improvement process is a yearly, ongoing phenomenon, gradually building on our previous strengths. n





Two examples of responses compiled from the Silmaril Survey
(See 'Types of Questions to Ask' sidebar)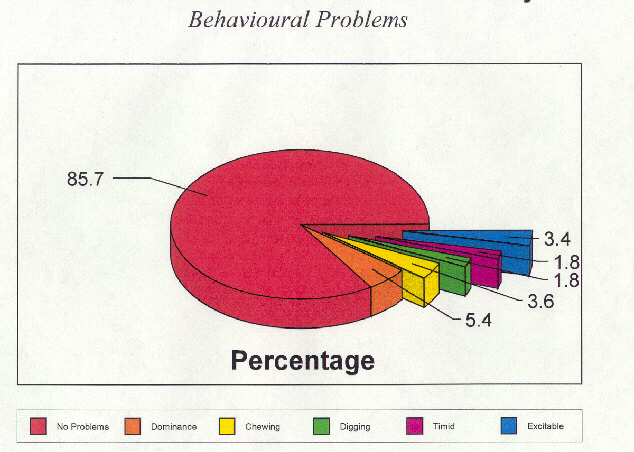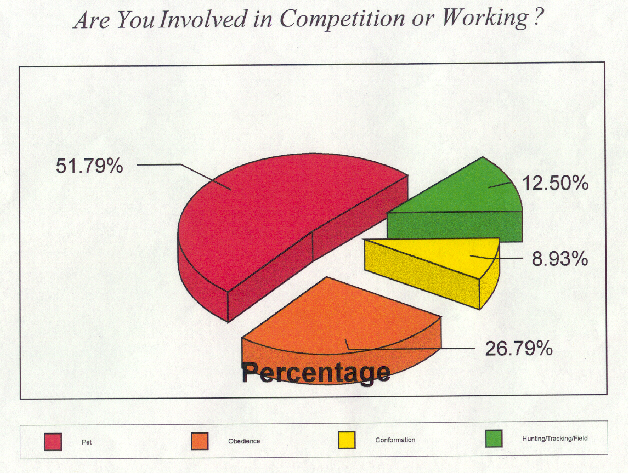 Types of Questions to Ask About the Dog
Was your puppy ill shortly after arriving at its new home?
Did it experience more than one day of diarrhea?
Were all the puppy's vaccinations completed?
Was your dog checked for worms at 12 weeks?
Did it require medication?
Did you spay/neuter your pup?
At what age?
Did you have your pup's hips x-rayed?
Did you understand why you did?
Was the result reassuring?
Did your pup demonstrate any behaviour problems?
If yes, what?
(Dominance, Chewing, Digging, Timidity, or Excitability ?)
At what age were these problems exhibited?
Have you done obedience training with your dog?
Are you involved in competitive activities with your dog?
If yes, what?
(Obedience, Conformation, Hunting/Tracking/Field)

About the Breeders

Did you find the initial information
packet useful?

Did you find the 'new puppy' package helpful when you took your pup home?

Did you have questions/concerns not addressed in the handouts?
If yes, what areas need more attention?