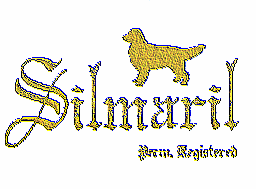 " Nicki "
Silmaril's Lothlorien's Phoenix
October 27th, 1993 ~ March 1st, 2000.
---
Lothlorien nurtured You,
All the while grieving your brothers and sisters.
You gave your own life giving life ~ your own lovely puppies
You died in Michelle's arms before you ever saw them.
We wanted you back but couldn't call you home from "The Bridge".
We rescued your pups - they are all well !
While they miss their "Mom", they do know love.
We will all miss you until we join you at the Rainbow.