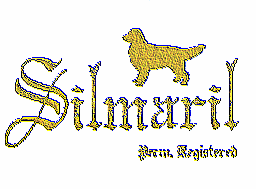 " Sunny - G "
Saddleback's You Are My Sunshine
June 3rd, 1986 ~ July 8th, 1999
" We had not to gain her confidence or her friendship; she was born our friend;
While her eyes were still closed, already she believed in us;
Even before her birth, she had given herself to man ."
Maurice Maeterlinck

---
---
Sunny of The Short Paw
She dwelt among the untrodden ways
Beside the springs of Love...
A maid whom there were few to praise
And very few to love.
She dwelt among the untrodden ways.
A violet by a mossy stone
Half hidden from the eye;
Fair as a star, when only one
Is shining in the sky.
She lived unknown, and few could know
When 'Sunny' ceased to be;
But she is in her grave, and oh
The difference to me!
Paraphrased from William Wordsworth